British-American artist Russell Young, known for his serigraphs of cultural icons sprinkled with diamonds, collaborates with SuperRare for his first NFT release Marilyn is crying falling today January 12, 2022.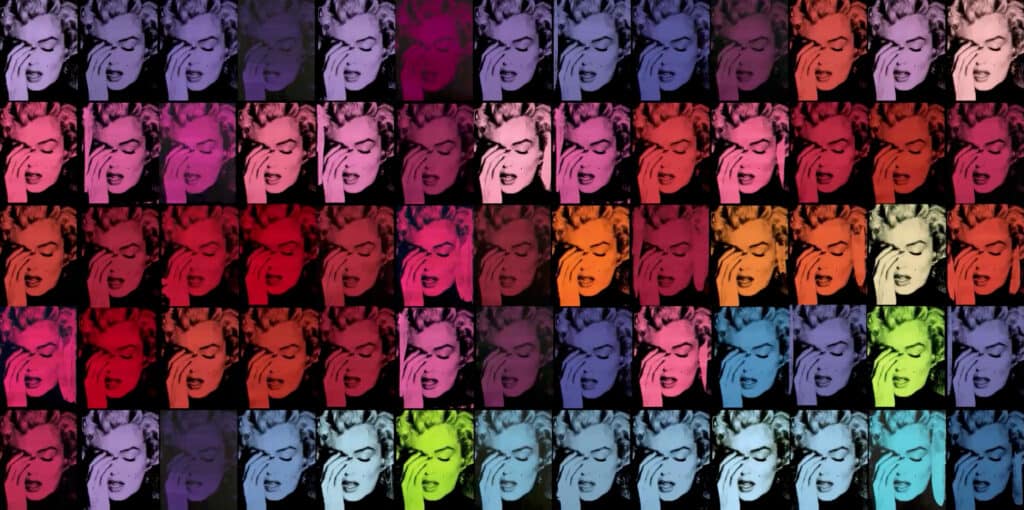 NFTs are like another color in my artist palette. It's a new way for me to communicate my obsessions for fame, shame and color with the world.
Young has waited until now to translate the visceral and analog processes of his work into NFT that elicit the same sense of immediacy and raw material as his distinctive art practice. The NFT will also be visible on an IRL screen at the New York location of the Taglialatella Gallery.
Marilyn is crying comes from one of his most iconic works depicting Marilyn Monroe in evocative state that speaks much of Young's overall practice exploring fame, excess and the complicated nature of the American Dream. Young mixes by hand and titles each of his original colors. These colors come from all over the world, from a mountainside in Waimea Canyon, Kauai, to a pigment store in Florence that dates its lineage to pre-Renaissance times.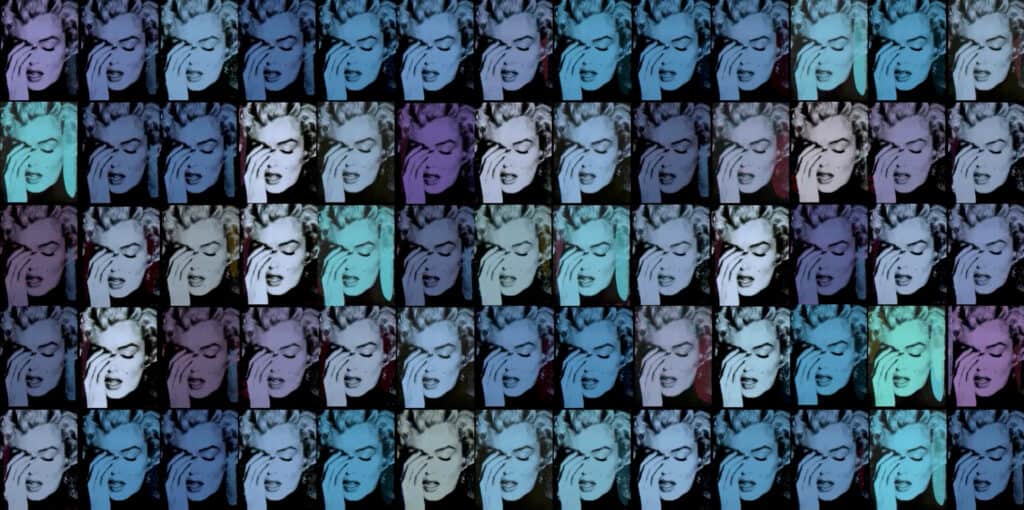 Marilyn is crying consists of 100 original colors derived from his silkscreen paintings with over 1,000 variations that he himself mapped, creating the formula without the use of a generative algorithm. Each of the panels Marilyn is crying is an individual silkscreen photograph, in which Young rigorously reflects the raw, practical nature of his craft. Young's artistic vision behind Marilyn is crying recalls the same analog processes he uses in his physical works, such as grinding natural elements into pigments, using seawater and Pacific rain as corrosive, and the streaks that often occur when manually pulling silk screens. It was important that the physical and labor intensive aspects of his job were reflected in this TVN.
Entering the metaverse with SuperRare, Young is able to sum up his entire career in a way that was not available to him before. With its elements of repetition, transition and movement, Marilyn is crying traces Young's roots by photographing the London music scene of the 1980s to the filming of over 100 music videos to the heyday of MTV in the 1990s, to the hand painting and directing of hundreds and hundreds of paintings on screen printing today.
Young's work is included in many prominent private and institutional collections, including those of Elon Musk, Mark Zuckerberg, Barack Obama, David Bowie, Drake, Angelina Jolie, David Hockney, Kayne West, Brad Pitt and others. , as well as The Getty Collection in Los Angeles and The White House Collection in Washington, DC
Marilyn Crying on SuperRare, January 12, 2022 Reserve auction opens at 9:00 a.m. EST 2:00 p.m. GMT
HERE: superrare.com/artwork-v2/marilyn-crying
About the artist
Russell Young is an Anglo-American artist best known for his large-scale silkscreen paintings which have been collected by Barack Obama, Elon Musk, the Kardashians, Drake, Brad Pitt, Joaquin Phoenix, Kate Moss and many others. His first breakthrough was his photograph of George Michael for the album cover art. Faith in 1987. Young has photographed many music stars over the years including Morrissey, Bruce Springsteen, Bob Dylan, REM, The Smiths, Bauhaus, Diana Ross, Paul Newman, Björk and many more. He also shot over 100 music videos for leading artists during the heyday of MTV in the 1990s.
Young's current practice began with his sold-out show Pig portraits in Los Angeles in the 2000s, when he began screen printing and incorporated his famous use of diamond dust. The many series that followed have been exhibited around the world in numerous galleries alongside masterclass artists, institutions and cultural figures.
He currently lives in Southern California.
Russellyoung.com Instagram: @bankrobbercalifornia Twitter: @_russellyoung
About SuperRare
Founded in 2018, SuperRare is a pioneering and organized marketplace for high-quality NFT artwork, built on the Ethereum blockchain. Almost $ 200 million worth of NFT-based artwork, also known as "CryptoArt," has been bought and sold on the platform, with artists earning income from both original sales and on resales. A destination for digital discovery and with the unique proposition of unique editions, SuperRare was created with the aim of empowering the next generation of artists through technology and empowering artists and collectors around the world to sell and d " buy digital works of art. SuperRare recently launched the new $ RARE curation token, converting the SuperRare NFT Marketplace into a community-governed gallery network, decided by community voting. superrare.com/rare
Categories
Keywords
Author
Marc Westall
Mark Westall is the founder and editor-in-chief of FAD magazine Founder and co-editor of Art of Conversation and founder of the @worldoffad platform