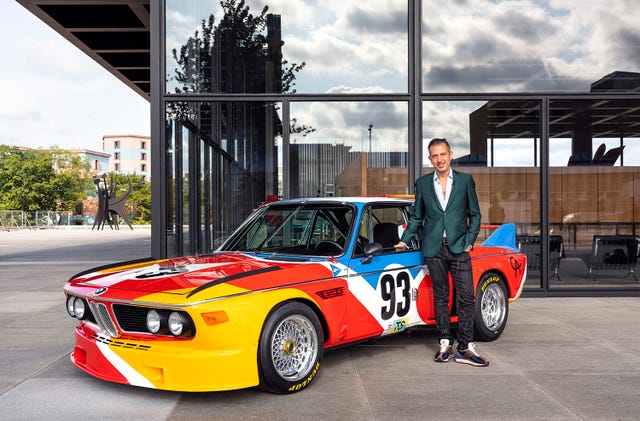 David von Becker / Calder Foundation
"I want to hear the engine," Alexander SC Rower, 13, told his grandfather. "Let's start it."
It was 1976. The setting was the Whitney Museum of American Art in New York. And the car, a 1975 BMW 3.0 CSL, was not going to start. It was first exhibited in the United States as part of a retrospective, Calder's universe, celebrating Rower's grandfather, artist Alexander Calder.
Known as "Calder's Car", BMW's first Art Car was painted in Calder's palette of red, yellow and blue (applied by Walter Maurer, who went on to paint cars of Andy Warhol, Roy Lichtenstein and Jeff Koons). Before becoming a museum piece, the Calder car raced hard, competing in the 24 Hours of Le Mans the year before, driven there by Sam Posey, Jean Guichet and Hervé Poulain. The car abandoned the race after seven hours because of a faulty driveshaft, but it was Poulain who ordered the car's artistic turn at Calder's French studio and on behalf of BMW.
"I'm there with my grandpa standing next to this car and it's really great," says Rower, who is called Sandy. "The fact that there is no interior like vinyl on the inside of the doors. Everything is skeletal on the inside. It's super cool. Like, all that is needed, but nothing more . "
Technically, the car was in the BMW collection, but on that day Calder assured his grandson that he intended to make an exact copy of the car that the child could someday drive. Then, two weeks later, her grandfather passed away. "More than any other American artist, Calder has penetrated the consciousness of the general public," the New York Times written in his obituary. Georgia O'Keeffe, Norman Mailer and John Cage helped celebrate the opening of Whitney's exhibition.
Much of his work focused on movement, embodied by its motives. He also wanted to make his work known to the masses. In 1973, Braniff International Airways asked him to paint an airplane. "Flying Colors of South America," as it was called, was shown at the Paris Air Show in 1975. "It garnered tremendous attention," said Rower. "I mean, that was before the planes were painted. It didn't say Braniff anywhere on it and it had Calder's name above the door." The buzz caught the attention of BMW. The Art Car was born soon after.
Rower eventually became the steward of his grandfather's inheritance. In 1987 he founded the Calder Foundation and has curated countless exhibitions of his grandfather's work while also organizing the archives for conservation scholarships. But he never forgot that day at the Whitney. Over the years, the foundation has received many requests for the car. "I started to think that it would be pretty amazing if we had Calder's car and we could loan it to shows and activate it, make the engine have a fierce roar, because the one in Munich doesn't has no working engine, "rower said. "They will never drop an M49 engine in a car and let someone tear it up on the track."
Rower doesn't define himself as a car enthusiast, but he does have a penchant for delicious classics. ("That's my definition: I don't own a spark plug wrench," he says. "So I'm not a car guy.") He owns a green 1958 Jaguar XK, a Citroën DS station wagon. , and has Two Horses. He says he's looking for a 1930 LaSalle, like the car his grandparents drove in the Calder studio in Connecticut.
He set out to track down an identical CSL 3.0. "I made all of these rookie mistakes looking for the wrong thing." It took a few years before his car collector friend Bob Rubin helped him find one in Sweden, and in 2018 he bought the car.
Rower contacted BMW and got in touch with Thomas Girst, Global Head of Cultural Engagement, who oversees BMW's Art Car program. Rower approached him to make an accurate copy. BMW was in full swing.
Restorer Franz Ostermaier worked at the BMW Classic Center in Munich, comparing the Calder art car to the copy. The replica was fitted with a six-cylinder engine identical to the one used for racing. Rower contacted Maurer, now nearly 80, to apply the artist-proof coat of paint. Maurer mixed more than a dozen yellows until he landed on an exact match of his original work.
After numerous shutdowns and supply delays related to COVID, the car was finished early last summer and is so good that the cars are difficult to distinguish. "There is a fire sensor on the roll bar that really blew me away, dating back to 1975, from the aircraft industry," Rower says. There are some differences. BMW made and applied reproductions of the racing stickers. These have been deleted. "Our car didn't race so it shouldn't have them," Rower said. "It's not a clone." Girst was able to sort a new VIN officialized by BMW for authentication.
The replica is now on display at the Norton Museum of Art in West Palm Beach, Florida, through April. Next, it will likely be shown at Calder Philadelphia, a new exhibit space in Calder's hometown. And although you couldn't start the engine, Rower did. "My 13-year-old self was super excited to hear this engine," he says. "And it was just like, you know, pounding in the chest, and I just had a huge smile on my face."
This content is created and maintained by a third party, and uploaded to this page to help users provide their email addresses. You may be able to find more information about this and other similar content on piano.io